The design of this elegant thermostatic shower system is inspired by the piano keys. It features a linear design with perfect proportion and consistent contour on appearance that is impressive and perfectly coordinated with user-oriented functions. The unique design of the Piano push button makes this product distinctive from other regular shower systems, you can just press the piano keys to switch the spray modes so easily. Moreover, the shower system can accurately control the water flow and spray modes that provides you with a joyful showering experience.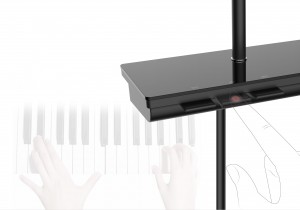 Each Piano button corresponds to different spray function, which is clear and easy to operate. Press the first button from the left to turn on lower water outlet mode, touch the second button to start raincan showering and switch to the handheld showering mode easily by pressing the third button. The raincan shower and handheld shower equipped in this system are with full coverage and powerful spray force that quickly and effectively rinse the hair, revitalize the scalp, bring a refreshing and comfortable sense of cleanliness, thus fully relaxing your body and mind under the soft and meticulous shower,
The superior glass shelf with bright surface offers a large storage space that you can place any bottles or other staffs on it to make your bathroom look neat and tidy with such an integrated design.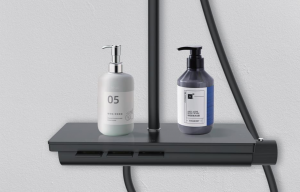 The water temperature is locked within 40℃ by default. If you want to adjust the water temperature above 40℃, you need to press the temperature lock button to prevent the elderly and children being scalded due to potential misoperation. Maximum temperature limit reaches 49℃.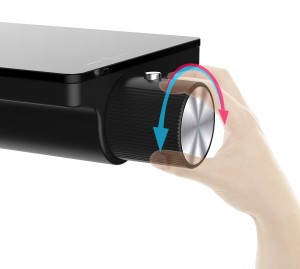 ---
Post time: Jul-12-2022